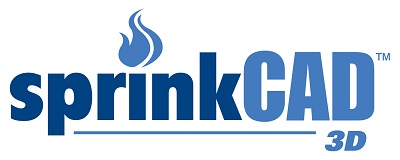 Sprinkler System Design
Easily build a code-compliant sprinkler system. Work in full 3D using the new SprinkCAD 3D, or generate 3D models from SprinkCAD Classic. Both versions support hydraulics and stocklisting and also include SprinkCODE Connect. SprinkCAD 3D is currently available in the United States, Canada, and the United Kingdom. Contact SprinkCAD with any questions regarding future availability.
Technical Details:
Export files for both NavisWorks and Revit
Operating system support
Windows 10 Professional (32- and 64-bit)
Windows 8 Professional (32- and 64-bit)
Windows 7 Professional (32- and 64-bit)
Requires AutoCAD or BricsCAD
CAD environment support
AutoCAD 2015 through 2018, 32- and 64-bit (including AutoCAD MEP)
BricsCAD V16 and V17 Professional or Platinum, 32- and 64-bit
SprinkCAD BIMport utility is supported on Revit MEP 2014 through 2018
SprinkCAD 3D license includes access to SprinkCODE Connect, SprinkSLIC, and SprinkCALC; licenses for SprinkFDT are sold separately.
SprinkCAD 3D Introduction